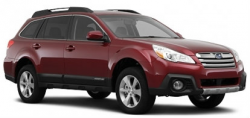 — For the sixth time in five months, owners of Subaru Outback and Legacy vehicles must cope with another recall.
The National Highway Traffic Safety Administration announced Subaru is recalling over 5,300 model year 2013 Outback and Legacy vehicles because of serious steering problems. So serious a driver would have no control over their vehicle.
Subaru says the steering column assembly contains a splined inner and outer shaft. The splined shafts are intended to be a tight press fit.
Subaru found the fit wasn't enough to maintain contact between the inner and outer shafts. There would be no way to steer the vehicle if the shafts disengage.
The recall is expected to begin about May 15, 2013. Subaru dealers will replace the steering column assembly with a new one that won't disengage.
Upset owners can contact Subaru at 800-782-2783 and give them recall number WQI-45.
An Disturbing Trend of Recent Recalls for the Outback and Legacy
Check out the other five recalls so far this year for the Subaru Outback and Subaru Legacy: