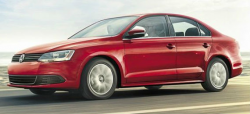 — Just days after the National Highway Traffic Safety Administration opened an investigation into alleged exterior lighting problems in the Volkswagen Tiguan, VW has announced a global recall of 800,000 of those cars from model years 2009-2011.
Additionally, 1.6 million vehicles with a seven-speed dual-clutch gearbox will be recalled for gearbox problems. For drivers in the U.S., that means the model year 2013-2014 Volkswagen Jetta Hybrid is on the list.
Volkswagen Tiguan Lighting Problems
The U.S. government opened an investigation into the Tiguan after receiving 26 complaints alleging a partial or complete loss of exterior lights. Owners complained a fuse could melt causing the lights to go out.
VW now says a fuse is the problem and can cause exterior lights to fail, but at least some lights will remain functional because only one of two vehicle light circuits are affected.
Thankfully, there have been no reports of accidents or injuries related to the problem.
VW will notify U.S. owners of the 2009-2011 Tiguan in December, 2013. VW dealers will replace the existing fuse with a new optimized hard-coated fuse.
Volkswagen Gearbox Problems
December is also the month U.S. owners of the 2013-2014 VW Jetta Hybrid will receive a mailed recall notice. Across the world, 1.6 million VW owners will await their recall notices.
Volkswagen says cars and vans with the seven-speed dual-clutch gearbox can have an electrical malfunction in the gearbox power supply if synthetic gearbox oil is used. The problem is amplified if the car is used in hot and humid climate and has a lot of stop and go driving.
VW dealers will replace the existing synthetic gearbox oil with a new mineral-based oil with non-corrosive additives.
More information about these recalls should be forthcoming from the National Highway Traffic Safety Administration. CarComplaints.com will keep you updated with any further developments.