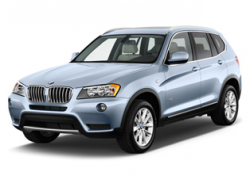 — BMW is recalling over 156,000 cars and SUVs because bolts might rattle loose and cause engine damage. The German automaker says the problem isn't common but they aren't taking any chances. The recalled cars have a six-cylinder engine and include the following:
BMW says loose or broken bolts that hold the variable camshaft timing unit can cause the engine to go into a "safe mode." A driver would notice a "check engine" or "service engine soon" light and should stop driving the vehicle and contact a dealer.
BMW says if warning lights activate, pull over and call a tow truck. Continued driving could cause the engine to completely stall or fail.
The recall should begin in May, 2014. BMW dealers will replace the four housing bolts for both camshaft timing units. In addition, owners of 170,172 model year 2010-2012 BMW cars equipped with inline six-cylinder engines not covered by this recall, will receive an extended warranty to cover this problem.
Owners may contact BMW at 1-800-525-7417.