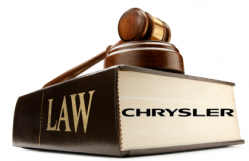 — It was only a matter of time, and the time has come for Chrysler to be on the receiving end of a class-action lawsuit over defective ignition switches. General Motors has cornered that market for the past several months as it's faced investigations, recalls and numerous lawsuits about deadly ignition switch failures.
Chrysler recently recalled 792,000 model year 2006-2007 Jeep Commander and 2005-2007 Jeep Grand Cherokee SUVs because a bump to the key could cause the ignition switch to move from the "on" position. A driver loses power brakes, power steering and the ability of the air bags to deploy in a crash.
In documents filed with the National Highway Traffic Safety Administration, Chrysler said the defect had caused one accident but no injuries or deaths. According to the automaker, the decision came out of "an abundance of caution" and recommended owners remove all items from the ignition key.
The class-action lawsuit was filed by Latoya Lumpkin, owner of a 2006 Jeep Grand Cherokee. Lumpkin alleges Chrysler ignored nearly 120 complaints about the ignition switch and put owners at risk of accidents, bodily harm and death.
Lumpkin further alleges she wouldn't have purchased the Jeep Grand Cherokee if she knew of the defective ignition switch. Additionally, she claims Chrysler is putting her and her family at risk by making her wait until September 2014 to repair the Jeep.
MLG Automotive Law filed the lawsuit in U.S. District Court, Central District of California, after filing a similar lawsuit against GM for its defective ignition switches.
"No one should be surprised. These manufacturers have no interest in protecting the public, or doing what is morally right. They are unconcerned that people will die and families will be crushed. They only care about financial gain. We saw it with GM, and we are now seeing it with Chrysler." - Jonathan Michaels, MLG Automotive Law
The suit seeks damages for all owners of the affected Jeeps for loss of use, repairs and diminished value. Further, the lawsuit is demanding Chrysler contact all owners of 2005-2007 Jeep Grand Cherokees and 2006-2007 Jeep Commanders and tell them to stop driving the SUVs until repaired by Chrysler.
Read what owners say about the Jeeps named in the Chrysler ignition switch class-action lawsuit: