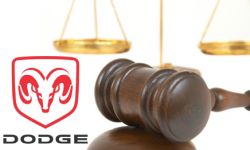 — Chrysler has been hit with a class-action lawsuit that claims tie rods can break in numerous models of trucks and cause a total loss of steering.
The lawsuit names the trucks as the 2008-2012 Dodge Ram 2500, Ram 3500, Chassis Cab 4x2, as well as the Ram 4500 and 5500 models.
The focus of the lawsuit is the left tie-rod ball stud that can fracture causing a loss of steering. In November 2013, Chrysler recalled 1.2 million trucks over the same complaints, admitting six accidents and two injuries occurred when the tie rods fractured.
Lead plaintiff Shaun Sater accuses Chrysler of lacking the necessary parts to fix all the trucks. Sater said he tried to schedule appointments after receiving the 2013 recall notice but Chrysler didn't have the required parts.
Sater says on March 24, 2014, the left tie-rod ball stud failed and caused the tires to turn in the opposite direction. Sater says he paid $1,000 of his own money to fix the truck that should have been fixed by Chrysler much earlier.
The lawsuit claims Chrysler knew about the problem for years and finally redesigned the Ram steering with the 2013 model year. However, the tie-rod problems remain.
Ram owners have complained to CarComplaints.com for years about the trucks named in the lawsuit. An Alaska owner of a 2009 Ram 2500 said he has experienced nothing but trouble (and loss of money) trying to get the problem fixed.
Timothy K., of Ketchikan, Alaska, said he received the tie-rod recall notice and took his Ram 2500 to the dealer. While there, the dealer said the truck also needed ball joints, which Tim paid for. Now his steering wheel has no tension to steer the truck in a forward straight line.
"It tracks fine until I hit a bump or slope to road then it verse to the side and counter steer is needed, that tends to throw vehicle in opposite direction. It's been in and out of shop every 2/3 weeks as they try to solve the problem. So it's been some 5 to 6 months later and no fix! Dodge has heard of the problem from others but seem to think its no big deal. I drive in anticipation waiting for something to break."
The Chrysler tie-rod lawsuit seeks damages based on the decreased value of the trucks and for violations of the Magnuson-Moss Warranty Act.
The plaintiffs are represented by Premier Legal Center APC and the Law Office of Robert G. Loewy PC.
Read what others have said about the Ram trucks named in the lawsuit: