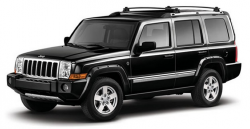 — Move over GM, another automaker might be trying to steal your embarrassing thunder about ignition switches that can mistakenly be moved out of the "run" position.
The National Highway Traffic Safety Administration (NHTSA) has opened an investigation into 525,000 model year 2006-2007 Jeep Commander and 2005-2006 Jeep Grand Cherokee vehicles after reports of allegedly defective ignition switches.
This Grand Cherokee and Commander investigation comes at the same time NHTSA opened a separate investigation into ignition switch problems in 700,000 Chrysler vehicles.
Owners complain that any contact with the ignition key or FOB can cause the ignition switch to move to the "off" or "accessory" position. This is followed by no power steering or power brakes because the engine is shut off.
As in the case of the GM vehicles, the air bags won't deploy in a crash with the key turned out of the "run" position.
Owners of the 2005 Jeep Grand Cherokee say a simple bump of the knee is enough to kill the engine.
"...knee hits the ignition resulting in the engine turning off in the 2005 Jeep Grand Cherokee. The consumer believes the ignition was design to low which makes it prone to being hit."
"My husband was driving on rte. 75 at approximately 75 mph when his knee bumped the key in the ignition switch and car turned off. Very scary, fortunately around 8pm and not as much traffic as usual. Could have been very bad if traffic had been a bit different."
"2005 Jeep Grand Cherokee design flaw in the ignition system. With a brush of the knee of a 6 foot tall male, the ignition can be turned off while in gear and moving forward on a highway. The car can't be re-started unless stopped and when shifted in the park position. There should be a locking device on the ignition that prevents shut-down while moving in gear"
"When driver entered into the vehicle and started it up, and while driving driver's knees hit against the ignition. This caused the vehicle to shut down intermittently, but driver was able to restart it."
The government says it has received 32 complaints about the ignition switch on the 2006-2007 Jeep Commander and 2005-2006 Jeep Grand Cherokee, with one crash blamed on the alleged defect.
CarComplaints.com will update you with the results of the investigation once it's complete.