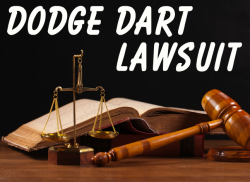 — When you buy a new car you expect it will be free of defects, but a California couple claim that didn't happen with their Dodge Dart. Joshua and Marta Hardt have filed a class-action lawsuit against Chrysler alleging the 2013-2014 Dodge Dart has transmission problems that are a risk to safety.
The lawsuit claims the plaintiffs noticed a problem with the manual transmission six months after buying the Dart. The Hardts took the Dart to a dealer after the car backfired and shut off at a stoplight and wouldn't restart. The dealer couldn't replicate the problem and found no trouble codes in the car.
The lawsuit says the owners took the car home only to have the clutch pedal hit the floor while trying to start the Dart. The car was taken back to the dealer and as before, mechanics couldn't find anything wrong.
Joshua Hardt was told to pick up the car, but Mr. Hardt claims the "Check Engine" and "Oil Change Due" lights were on. The Chrysler dealer eventually replaced the clutch master cylinder and slave cylinder, but the lawsuit claims the Dart still experienced problems.
The Dodge Dart transmission lawsuit alleges the 2013-2014 model year cars have a defect in the manual transmissions that can cause grinding, clutch pedal problems, and the gear shifters and transmissions to burn out. Additionally, the lawsuit says the defect can cause the Dart to stall, creating a serious safety hazard on the road.
The Hardts allege Chrysler knew the 2013-2014 Dodge Dart had manual transmission defects but hid the problem from the buying public. Specifically, the lawsuit alleges the hydraulic clutch system does not work as advertised, yet Chrysler sold the cars as being free from defects.
The Dodge Dart transmission defect lawsuit was filed in U.S. District Court for the Central District of California. The plaintiffs are represented by Capstone Law APC.