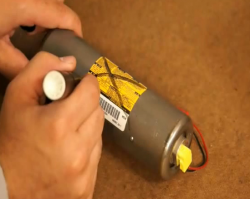 — The National Highway Traffic Safety Administration (NHTSA) is investigating over 1 million vehicles because the air bag inflator (see image) could rupture and cause more harm to an occupant than an actual crash.
NHTSA says the investigation involves model year 2002-2006 models made by Honda, Nissan, Mazda, Chrysler, and Toyota. The connection with all those manufacturers is air bag supplier, Takata.
It was a year ago that 3 million vehicles were recalled with Takata air bags that had inflators (metal canisters) which could explode and send shards of metal flying inside the vehicles.
That recall was in May, 2013, but by August a driver of a 2005 Honda Civic said the air bag inflator had exploded. In early 2014, the owner of a 2003 Toyota Corolla said the air bag exploded, then an air bag in a 2005 Mazda6 ruptured. Those incidents caused three injuries, although all appeared to be minor.
More exploding air bag inflators were reported on a 2004 Nissan Sentra, a 2006 Dodge Charger, and a 2002 Toyota Corolla. NHTSA says all six incidents occurred in Florida and Puerto Rico, areas known for very high humidity.
The investigation will determine what's causing the problem and if more vehicles need to be recalled or if the previous recalled cars need to be recalled again. However, one automaker isn't wasting time and has already ordered a second recall.
Toyota just announced it is re-recalling 844,000 model year 2003-2004 Toyota Corolla, Corolla Matrix, and Tundra; 2002-2004 Sequoia; and 2002-2004 Lexus SC 430 coupes.