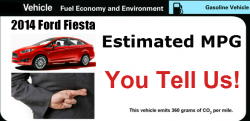 — Most consumers buy a hybrid car for the alleged fuel savings it can bring compared to a standard gas-powered car. EPA stickers on hybrid cars are typically the first thing a buyer checks when shopping for a car, but just how accurate are those MPG claims?
According to Ford, not very accurate at all, at least for some of their hybrid models.
Ford has announced it will lower the fuel economy ratings for its model year 2013-2014 hybrid and plug-in hybrid vehicles as well as most model year 2014 Fiestas. The hybrids include the Lincoln MKZ Hybrid, C-MAX Hybrid, C-MAX Energi, and Energi versions of the Ford Fusion.
Ford says about 200,000 of the cars have been sold or leased in the U.S. The automaker says they will reimburse affected owners up to $1,050 each, what Ford calls a "goodwill payment" based on the faulty mileage claims.
The Environmental Protection Agency was notified about the errors and will mandate that Ford update its estimates, including changing any fuel economy stickers on cars sitting on dealer lots.
It's not the first time an automaker sold vehicles under false mileage claims. In 2012, EPA went after Hyundai and Kia over inflated mileage claims after government testing didn't match mileage claims submitted by the automakers.
In one example, EPA found the Kia Soul was advertised as getting six miles per gallon more than it actually did, just one little discrepancy that lead to a $395 million settlement with the government.