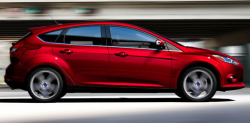 — Safety features on cars are supposed to improve safety, but a class-action lawsuit against Ford says that just doesn't happen in model year 2010-2014 Ford Fusion and 2012-2014 Ford Focus cars. Filed in the U.S. District Court for the Northern District of California, the plaintiffs allege Ford knows the power steering system is defective in the cars.
Based on court documents, the plaintiffs claim the power steering system is advertised with a feature that helps drivers with "pulling" and "drifting" based on road conditions. The system is supposed to work automatically, but the lawsuit alleges the system fails on the road, causing a problem with turning the wheel.
The plaintiffs further claim there are defects throughout the system, including problems in the gear assembly, sensors and wiring of the unit.
The lawsuit alleges Ford knows about the defects and refuses to correct or recall the cars. Additionally, the suit claims Ford denies warranty coverage and makes owners pay for any repairs on the system.
CarComplaints.com has received numerous complaints about steering problems in the Ford Focus and Ford Fusion, including the model years named in the lawsuit.
The driver of a 2010 Ford Fusion said they were on a busy highway when they lost all steering and saw the "service power steering now" light illuminated.
"I went online and read many complaints about the same thing. My father has worked for Ford for over 35 years and he checked with a dealership to see if there were any bulletins or any 'hidden recalls' and no to both. This is a dangerous safety issue and Ford has not recalled this yet. I'm also going to issue a complaint to Ford and to the NHSTA."
Another 2010 Fusion owner said they thought they purchased a good reliable car, at least until it couldn't be steered.
"...my multi-function display begin to flash "Service Power Steering Now", "Advance Trac", I had NO idea what this meant until I began to turn the steering wheel.... It was EXTREMELY difficult to do so. Ford better do something and they better do something soon. I will take this as far as I have to!!"
Ford steering problems have made the news lately, although on different models than named in the lawsuit. In late May, Ford recalled over 1 million Ford Escape, Explorer and Mercury Mariner SUVs for steering defects traced to five accidents and six injuries.