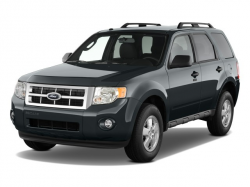 — Ford has good news for some customers, not-so-good news for others.
Let's start with the bad news, at least for owners of 435,000 older Ford Escapes and 49,000 model year 2013-2014 Ford Escape, C-Max, Fusion, and Lincoln MKZ vehicles.
2001-2004 Ford Escape Rusted Subframe Recall
Ford says 435,000 model year 2001-2004 Ford Escapes have a subframe that can rust and cause a control arm to break. Steering control will be lost if the control arm separates. Ford says the recall affects Escapes sold or registered in the "salt belt" states of the U.S. and certain provinces in Canada, including:
Connecticut, Delaware, Indiana, Illinois, Iowa, Maine, Maryland, Massachusetts, Michigan, Minnesota, Missouri, New Hampshire, New Jersey, New York, Ohio, Pennsylvania, Rhode Island, Vermont, Washington, D.C., West Virginia, and Wisconsin. Also included are Ford Escapes sold or registered in New Brunswick, Newfoundland & Labrador, Nova Scotia, Ontario, Prince Edward Island, and Quebec.
Ford knows of one accident related to the defect, but no injuries. Ford dealers will install a reinforcement brace to keep the control arm in place.
2013-2014 Ford Escape, Fusion, C-Max, Lincoln MKZ (Seat Problems)
Ford is recalling about 49,000 model year 2013-2014 Ford Escape, C-Max, Fusion, and Lincoln MKZ vehicles because the seat backs might have faulty welds. Ford says the welds are located where the recliner mechanism attaches to the seat frame. It's possible the seat won't hold in a crash. Ford has not said how dealers will fix the problem.
The National Highway Traffic Safety Administration hasn't released a schedule of when the recalls will begin, but affected owners should watch for official notice from Ford.
Ford F-150 Engine Investigation Closed
Ford did have some good news as NHTSA closed its investigation into engine problems in model year 2011-2013 Ford F-150 trucks.
The government received 95 complaints about F-150 trucks that would misfire under humid and rainy conditions. The trucks are powered by a 3.5L EcoBoost engine which uses twin turbochargers that compress air to increase the power created by the combustion in the engine.
Ford investigated and found condensation could build on the inside of charge air cooler tubes. An engine misfire of up to three cylinders could occur if the amount of condensed water released from the air cooler exceeded the engine's maximum operating ability for water ingestion.
Ford blamed the problem on EPA regulations that caused the powertrain software to disable up to two of the misfiring cylinders. Finger pointing aside, at least they've acknowledged the issue and that's why this is good news. It's something GM owners wish would have happened to them a decade ago.
NHTSA said the investigation is closed because Ford issued technical service bulletins to dealers that corrected the problem. However, the government says they will continue to monitor complaints about the affected trucks.