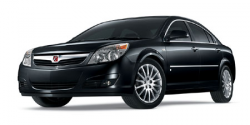 — What started as a federal defect investigation in 2011 has turned into a recall of 56,000 GM cars due to transmission problems. The National Highway Traffic Safety Administration (NHTSA) announced GM will recall model year 2007-2008 Saturn Aura cars because the transmission shift cable can break.
NHTSA opened a basic investigation in 2011 after receiving complaints alleging the shift cable's protective outer jacket fell apart over time and caused the cable to fracture. The investigation was upgraded to an engineering investigation in 2012. The problem was found only in four-cylinder transmissions and caused a host of dangerous conditions.
GM ordered a recall in September, 2012, that included 425,000 model year 2007-2010 Saturn Auras and model year 2008-2010 Chevrolet Malibu and Pontiac G6 cars, all equipped with four-speed automatic transmissions.
Owners complained about engines failing to start because the gear shifter looked to be in the park position when the transmission was actually in drive or reverse gear. Other Saturn Aura owners said their cars rolled away even though the shifter said the cars were in park.
One Utah Aura owner said the shift cable broke when shifting from park to reverse. The car rolled backwards and wouldn't start because the transmission wouldn't shift into park.
"Saturn would not cover repairs under warranty and repairs cost $307.72. If breakage had occurred somewhere other than a parking lot it could have been very dangerous with no control or ability to move out of traffic or harm's way. Should not have worn out and broken with 40,000 miles and 2 years old."
Obviously, this is not good news for General Motors as they struggle to explain why they failed (for 10 years) to recall millions of cars with a defect allegedly linked to numerous fatalities.
GM has its hands full and has not said when the Saturn Aura recall will begin. However, once things are moving along GM dealers will replace the shift cable assembly and mounting bracket.
Concerned owners should contact GM at 800-553-6000 and refer to recall number 14152.