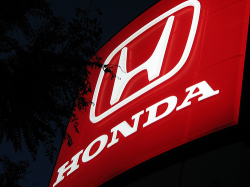 — The Center for Auto Safety (CAS) has asked the federal government to investigate Honda for allegedly failing to submit early warning reports to the National Highway Traffic Safety Administration.
As Ferrari recently found out when NHTSA fined the automaker $3.5 million, early warning reports are to be filed with NHTSA every three months to help the government track safety issues.
The reports are to include information such as complaints, warranty claims, accidents and property damage claims. More importantly, reports should include all incidents that involve injuries and deaths, but CAS says Honda is not reporting all death and injury claims to NHTSA.
CAS says Honda failed to file early warning reports about deaths and injuries related to exploding air bags made by Takata, the company responsible for millions of recalled vehicles.
The Center claims it's obvious Honda didn't submit early warning reports as required when you compare Honda reports with reports from other automakers. CAS says General Motors submitted 1,716 death and injury claims to NHTSA in 2013. Further, Toyota submitted 1,744 claims while Honda filed only 28 death and injury claims.
CAS goes on to give examples of the first three months of 2014 when GM reported 505 claims, Toyota filed 377 and Honda filed only six.
In its letter to NHTSA, the Center for Auto Safety provides two examples where it's alleged Honda failed to inform authorities about injuries and deaths related to exploding Takata air bags.
In one example, a 2009 accident in an Oklahoma parking lot killed Ashley Parham in her 2001 Honda Accord. CAS says the driver-side air bag exploded and although Parham was killed, Honda never notified the government about the death.
In another example, Honda failed to notify NHTSA when the driver of a 2005 Honda Civic was badly injured when the air bag exploded. The August 2013 accident caused shards of metal to strike the driver in the face.
CAS claims Honda has known about the defective air bags since 2007 but ignored the problems and didn't inform NHTSA through early warning reports. CAS is asking NHTSA to refer Honda's actions to the U.S. Justice Department for a criminal investigation.
Just days ago, a class-action lawsuit was filed against Takata and Honda alleging both companies knew about the dangerous air bags but did nothing to warn the public.
Update: The National Highway Traffic Safety Administration has officially opened an investigation into possible failures of Honda to report all injuries and deaths to the government. Read the requests Honda must respond to by November 24, 2014.