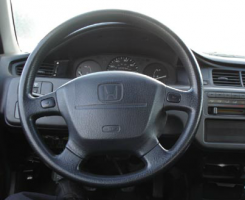 — Update - July 9, 2014: Honda announced an additional 1 million cars will be recalled in California because of defective Takata air bags. The affected California models are the 2001-2007 Honda Accord (4-cylinder); 2001-2002 Honda Accord (6-cylinder); 2001-2005 Honda Civic; 2002-2006 Honda CR-V; 2003-2011 Honda Element; 2002-2004 Honda Odyssey; 2003-2007 Honda Pilot; 2006 Honda Ridgeline; 2003-2006 Acura MDX; and the 2002-2003 Acura TL and CL.
________________________________
Honda is again a victim of faulty Takata air bags as the automaker announced a worldwide recall of two million vehicles, including many in the U.S.
In May, 2013, Honda recalled about one million vehicles because the Takata air bags could explode and cause metal to spray the cabin and anyone in it. Furthermore, earlier this month, the National Highway Traffic Safety Administration opened an investigation into defective Takata air bags.
Today's announcement includes three separate actions based on areas with high humidity that can cause the metal air bag inflator canister to explode during air bag deployment. Honda is aware of one alleged injury to a driver but no accidents or fatalities.
Honda says the models include those ever registered in, or first sold in regions with high absolute humidity. Honda lists those areas as Alabama, Florida, Georgia, Hawaii, Louisiana, Mississippi, South Carolina, Texas, Puerto Rico and the U.S. Virgin Islands.
Honda dealers will replace the driver's front air bag inflator in the following vehicles in the regions listed above:
2001-2007 Honda Accord with 4-cylinder engines
2001-2002 Honda Accord with V6 engines
2001-2005 Honda Civic
2002-2006 Honda CR-V
2003-2011 Honda Element
2002-2004 Honda Odyssey
2003-2007 Honda Pilot
2006 Honda Ridgeline
2003-2006 Acura MDX
2002-2003 Acura TL and CL
Some vehicles need their passenger front air bag inflators replaced, again based on the regions listed above. Honda says the following vehicles are affected:
2003-2005 Honda Accord
2003-2005 Honda Civic
2003-2005 Honda CR-V
2003-2005 Honda Element
2003-2005 Honda Pilot
2003-2004 Honda Odyssey
2003-2005 Acura MDX
2005 Acura RL
Some of the vehicles will need the passenger's front air bag inflator replaced no matter where the vehicles are registered. Those vehicles include the:
2002-2003 Honda Civic
2002-2003 Honda CR-V
2002-2003 Honda Odyssey
2003 Honda Accord
2003 Honda Element
2003 Honda Pilot
2003 Acura MDX
Honda says it's possible additional vehicles could be included in the recalls, but for now, owners should watch for notification from Honda. The automaker expects recall notices will be in the mail by the end of July, 2014. Affected owners can contact Honda at 800-999-1009 or Acura at 800-382-2238.
Read what owners say about the models named in the Honda recalls: