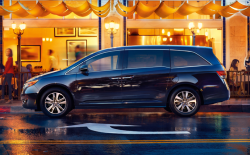 — Honda is recalling almost 25,000 model year 2014 Odyssey minivans because the passenger side curtain air bag could fail to deploy in a crash. Honda says the defect occurred during manufacturing when an electrical connector was damaged during assembly of the side curtain air bag. The connector is used to keep the air bag from inflating before it's installed in the Odyssey.
The recall should begin this month. Honda dealers will replace the damaged shorting pin with a new shorting coupler.
Owners can contact Honda at 800-999-1009 and reference recall number JE2.
The Honda Odyssey has taken a beating in the past in the recall department. Just a few examples?
In March, Honda recalled 887,000 Odysseys because a gas leak could cause a fire.
In November, 2013, Honda recalled 344,000 Odysseys because the minivans could come to an abrupt stop without using the brake pedal.
In September, 2013, Honda again recalled the Odyssey, this time for air bags that would deploy without a crash.
In April, 2013, the Odyssey was one of the vehicles recalled because failure of the brake-shift interlock blocking mechanism could cause the minivan to roll away.
Going back to January, 2013, Honda recalled 748,000 Pilot and Odyssey vehicles with air bags that could fail in a crash. And a month before that, the Honda Odyssey was part of a recall of 807,000 vehicles because of ignition switch problems.