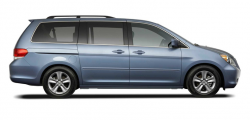 — Honda is recalling 887,000 model year 2005-2010 Honda Odyssey minivans because a fuel leak could possibly trigger a fire. Honda has received 187 warranty claims related to the fuel pump strainer cover allowing gas to leak.
Honda first noticed a huge demand for fuel pump replacement parts for the Odyssey and thought acid from car wash cleaning fluid was causing the strainer cover to crack and fall apart. Honda investigated further and found low PH materials used in fertilizer and dust control products can contain acid which could affect the fuel pump strainer cover.
As with a previous Honda Odyssey recall where the repair parts weren't available for an entire four months, Honda says they don't have necessary fuel pump parts to fix the 887,000 minivans.
Honda will send a first owner notification letter in April and a second notice will be mailed when parts are available, currently expected to be during the summer of 2014.
Any Odyssey minivans that are currently leaking from the fuel pump cover will need to get a replacement cover. Honda says this is an "interim" repair to hold you over until the improved cover is available.
If you smell or see fuel in your 2005-2010 Honda Odyssey, call Honda now at 800-999-1009.