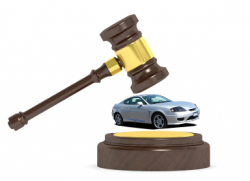 — Hyundai said it will appeal what it calls an "outrageous" verdict of $248 million in a Montana court case involving the deaths of three people.
Hyundai was sued after a July 2011 crash of a 2005 Hyundai Tiburon that crossed the center line of U.S. Highway 93 and struck another vehicle. The lawsuit claimed the Tiburon, driven by 19-year-old Trevor Olson, went out of control because a defective steering knuckle broke and caused the head-on crash.
The accident killed Trevor Olson, his cousin Tanner, 14, and Stephanie Nicole Parker-Shepard, 21, who was a passenger in the other car. Parker-Shepard's husband and two children were seriously injured.
The jury ordered Hyundai to pay $240 million in punitive damages and $8.6 million in actual damages, blaming Hyundai for not only the accident but also malice for not fixing the defective steering knuckle.
Hyundai argued Olson lost control of the Tiburon because he was playing with fireworks in the car before the accident.
Hyundai said there are millions of its vehicles on the roads, yet the company has received only 127 warranty claims related to steering knuckles. Furthermore, Hyundai said 111 of those claims could have been bearing problems. Either way, the automaker says, there would be many more warranty claims if the steering knuckles were defective.
Hyundai said damage to the steering knuckle was caused by the crash and not the cause of the crash. The automaker said the steering knuckle in the other car (a Pontiac) was also damaged.
Hyundai also said the Tiburon swerved to the left, the exact opposite of what should have happened if the crash was caused by a broken steering knuckle.
The National Highway Traffic Safety Administration (NHTSA) recalled 277 model year 2005 Hyundai Tiburons for steering problems, but not because of steering knuckles. Additionally, NHTSA has received four complaints about steering problems in the 2005 Tiburon and none of those are related to steering knuckles.