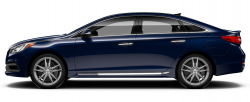 — Two weeks after recalling the 2015 Sonata for gear shifter problems, Hyundai is recalling another 5,600 of those cars because the front brake calipers can break.
The automaker blames the defect on a "manufacturing error" that can cause one or both front calipers to fracture. A busted brake caliper can cause stopping distances to be increased dramatically. Just one broken caliper could cause the brake pedal to hit the floor. A driver will be looking at serious problems if both front brake calipers fracture at the same time.
The brake caliper supplier said the manufacturing error affected the fatigue resistance of the brake caliper's cast aluminum alloy. All the affected calipers were produced from the same lot on the same day.
Hyundai says it has already told owners to park their cars until the calipers are replaced. However, the National Highway Traffic Safety Administration hasn't announced when the recall will officially begin.
If you own a 2015 Hyundai Sonata and have questions, call Hyundai customer service at 800-633-5151 and give them recall number 120.
CarComplaints.com currently has over 200 complaints about the Hyundai Sonata.