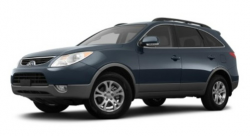 — Hyundai has announced three recalls involving about 419,000 vehicles, bringing the total number of recalled Hyundai cars in the past month to about 1.3 million. That's not counting the government investigation Hyundai is currently dealing with about alleged seat belt buckle problems in 394,000 Sonatas.
Hyundai Santa Fe
As with many other recalls from other manufacturers, Hyundai has ordered what is known as a "regional" recall of about 225,000 model year 2001-2006 Santa Fe crossovers.
Regional recalls can be based on specific areas with high heat and humidity or cold areas that could damage vital parts because of low temperatures. But the most popular regional recalls are those based on cold states that typically use a lot of road salt. Automakers call these areas "salt belt" states where salt can rust and corrode metal.
Hyundai says the 2001-2006 Santa Fe has a front coil spring that can rust and break. A fractured coil spring could easily puncture a tire and leave you stranded, if not crashed, on the road.
The recalled cars are registered and operated, or originally sold and registered in the following 20 states:
Connecticut, Delaware, District of Columbia, Illinois, Indiana, Iowa, Maine, Maryland, Massachusetts, Michigan, Minnesota, Missouri, New Hampshire, New Jersey, New York, Ohio, Pennsylvania, Rhode Island, Vermont, West Virginia, and Wisconsin.
The recall is expected to begin by the end of September 2014. Hyundai dealers will replace the coil spring if mechanics think there's a problem. Until then, owners of the 2001-2006 Santa Fe can call Hyundai customer service at 800-633-5151 and give them recall number 124.
Hyundai Sonata
Owners of the Hyundai Sonata should check their mail often (really often) as Hyundai announced about 133,000 model year 2011 Sonatas have problems with leaking brake fluid. The recall comes just days after Hyundai recalled 5,600 Sonatas with front brake calipers that could break and 883,000 Sonatas that could unintentionally roll away.
Additionally, the Sonata was recalled on July 13 because a wiring harness could cause problems with steering and the gear shifter.
Hyundai says the newest recall of 133,000 Sonatas is caused by a bad seal between the inner brake hose and a metal brake line fitting. Brake fluid can leak from the seal in two brake lines that connect the master cylinder to the hydraulic electronic control unit.
Leaking brake fluid means a warning light illuminated on the instrument panel and problems getting the car stopped.
The recall should get going by the end of September 2014, and will see Hyundai dealers replacing the brake hoses. If you own a 2011 Sonata and need help, call Hyundai at 800-633-5151 and refer to recall number 122.
Hyundai Veracruz
If you drive a 2007-2012 Hyundai Veracruz and have experienced alternator or drained battery problems, now you know why. The automaker says 61,000 of those cars can leak oil from the front cylinder bank valve cover gasket.
That leaking oil can hit the alternator and damage the charging system. The only warning a driver will have is a light illuminated on the dash and a dead car, possibly in the middle of a busy highway.
Hyundai dealers will need to repair or replace the front valve gasket cover and the alternator. The recall should begin by the end of September 2014, but with questions call Hyundai customer service at 800-633-5151 and give them recall number 121.