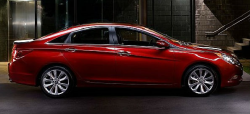 — Hyundai has not had a good month concerning its Sonata cars. Just two days ago the National Highway Traffic Safety Administration opened an investigation into 394,000 model year 2006-2008 Hyundai Sonata cars because of seat belt buckle problems.
About two weeks ago, the 2015 Sonata was recalled for gear shifter and steering problems, then the same 2015 Sonata was recalled for a defect in the front brake calipers.
Now it's transmission problems that have caused Hyundai to recall 883,000 model year 2011-2014 Sonatas. The automaker says the transmission shift cable can detach from from the shift lever pin and cause the car to roll away. Additionally, the gear shifter could make you think the car is in drive when it's really in reverse, or vice versa.
Hyundai ordered the recall after 1,171 warranty claims were filed because the Sonata shift cable disconnected from the shift lever. Engineers found a shift cable "eyelet" with an inner diameter towards the upper end of its specification being mated to a shift lever tab with a diameter towards the lower end of its specification.
Hyundai hasn't said when the recall will begin, but dealers will repair the connection between the shift cable and shift lever if mechanics see a problem.
Owners of the 2011-2014 Sonata can call customer service at 800-633-5151 and give them recall number 123.