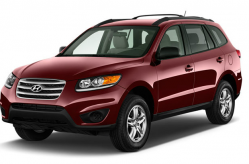 — Hyundai has filed a motion to dismiss a Hyundai Santa Fe engine problems lawsuit that claims model year 2010-2012 Santa Fe SUVs can stall and cause all kind of dangers on the road.
Lead plaintiffs Greg Battaglia and Julia Reniger filed the lawsuit alleging Hyundai concealed a defect that causes engine problems in the affected SUVs, mainly engine stall.
The lawsuit alleges owners have complained about their Santa Fe SUVs completely shutting off without warning while traveling at low speeds. Owners have also complained about vehicles that shut down while traveling at highway speeds, going uphill or downhill and even while going in reverse.
The plaintiffs say Hyundai finally issued a "service campaign" to repair the SUVs but owners continue to complain the Santa Fe SUVs still experience engine problems.
A Motion to "Dis" and Dismiss
In its motion to dismiss, Hyundai says the plaintiffs could have easily got their Santa Fe repaired under the service program but instead chose to file the lawsuit. According to court documents, the plaintiffs headed for the courthouse and accused the automaker of concealing a defect just a week after the service campaign was announced.
Saying the lawsuit is proof that no good deed goes unpunished, Hyundai claims the plaintiffs don't have a case because they didn't experience any injuries or warranty problems. Although the plaintiffs say their Santa Fe engine had stalling problems, Hyundai argues the plaintiffs didn't put out a dime for any repairs to the SUV.
Hyundai claims the stalling engines can be fixed by a simple software update, but the plaintiffs allege they had to eventually trade the Santa Fe for another vehicle.
Don't TREAD On Me
The Santa Fe lawsuit alleges Hyundai violated and continue to violate the TREAD Act by failing to disclose the nature and extent of the stalling defect and by failing to offer a real remedy for the alleged defect. Therefore, Hyundai allegedly violated the California Unfair Competition Law and California's Consumers Legal Remedies Act.
The Hyundai Santa Fe engine problems class-action lawsuit was filed in the U.S. District Court for the Northern District of California - Reniger et al. v. Hyundai Motor America et al.
The plaintiffs are represented by Glancy Binkow & Goldberg LLP.
Read what owners say about engine problems in the SUVs named in the lawsuit.
Read the Hyundai Santa Fe engine problems legal complaint here.