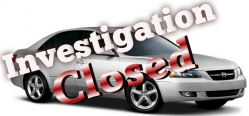 — Owners of the 2006-2008 Hyundai Sonata will receive a 15-year warranty extension to repair seat belt buckle assemblies that cause problems with the seat belt pretensioners. It took a federal investigation, opened in July 2014, to get Hyundai to do anything about the hundreds of complaints about the defect.
The National Highway Traffic Safety Administration (NHTSA) has received 131 complaints about airbag warning lights coming on followed by a failure of the seat belt pretensioners. NHTSA's big question was if these symptoms could cause the airbags to fail in a crash.
Hyundai documents show 764 reports (complaints) and almost 20,000 warranty claims related to failure of the front seat belt buckle assembly. The automaker said a diagnostic trouble code can cause the airbag warning light to illuminate because of problems with the seat belt buckle pretensioner circuit.
NHTSA says although the airbag warning light can activate, the airbag control module will continue to detect a collision and trigger the deployment of the seat belt pretensioners and airbags in a crash.
The government has closed its investigation based on the "minimal safety consequences" and also the fact Hyundai is extending the warranty coverage for this problem for 15 years or 250,000 miles, whichever occurs first.
NHTSA says closing the investigation doesn't mean a safety defect doesn't exist, which begs the question of why the investigation was opened in the first place. However, the government leaves open the possibility of reopening the investigation if circumstances change.