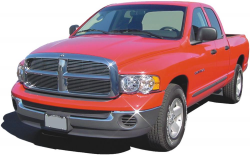 — The National Highway Traffic Safety Administration (NHTSA) wants to know why people are complaining about drive shaft problems in their 2005 Dodge Ram 1500 trucks.
Owners are griping about locked-up rear differentials or separated drive shafts that can cause the trucks to spin out of control. About half the complaints say the incidents occurred while traveling at 50 mph or more. Owners report it's a free-for-all once the rear axle locks, all without warning.
CarComplaints.com has heard from drivers of the 2005 Dodge Ram 1500 who described hearing a loud bang before the trucks lost control.
A New York couple first noticed problems when they heard a loud noise and saw smoke coming from the truck. Dodging traffic on a busy highway, the husband made it to the shoulder of the highway after crossing three lanes of traffic.
"After we came to a complete stop, we get out of our vehicle to find the drive shaft laying on the ground. Apparently, the driveshaft fell out from under the rear diff, spun around and split the transfer case in half and twisted the front drive shaft." - Lansing, N.Y.
Another driver of a 2005 Dodge Ram 1500 told a similar story.
"All of a sudden I hear a big bang under the truck as if I ran over some time of metal object and it kept banging. I immediately stopped in the the middle of the street and found that my center drive shaft had disconnected from the differential. How can this happen to a truck like this? Not very confident about this truck's reliability." - Harbor City, Calif.
An estimated 260,000 model year 2005 Dodge Ram 1500 trucks could be at risk, although NHTSA will have to determine if a safety defect exists and if the trucks should be recalled.
CarComplaints.com will keep you posted with any further developments.
Click here to read complaints about drive shaft problems in the 2005 Dodge Ram 1500.