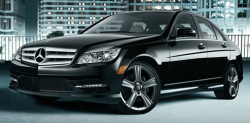 — Mercedes-Benz is recalling over 252,000 of its cars because the tail lights could go out and possibly cause a fire. The recalled cars include model year 2008-2011 Mercedes-Benz C300, C300 4Matic, C350, and C63 AMG vehicles, all manufactured January 26, 2007, through July 13, 2011.
The National Highway Traffic Safety Administration opened an investigation into the problem in July, 2013. Six months later the investigation was expanded and saw safety regulators focus on an over-heating ground wire caused by corrosion between the connectors in the ground circuit to the tail lights.
At the least, the tail lights would go dim or completely out. At the worst, some owners reported smoke and flames coming from the area of the trunk.
Mercedes-Benz does not have the parts to fix the cars. Owners will be sent a first letter sometime in June, 2014. Once parts are available a second letter will be mailed, probably around September, 2014. Mercedes-Benz dealers will replace the bulb holders and any corroded connectors.
Affected owners can contact Mercedes at 800-367-6372.