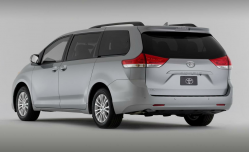 — After recalling 6 million vehicles last month for air bag problems, Toyota today announced three additional recalls of about 460,000 cars and minivans for three separate defects.
Toyota Sienna
About 370,000 model year 2004-2011 Sienna minivans originally sold or registered in cold climate states are recalled because the spare tires can fall from the minivans. Another 80,000 minivans are in Canada and about 400 in Europe. Toyota didn't say which U.S. states were affected, but in 2010 the same vehicles were recalled for the same problem.
Toyota says the spare tire is stowed under the minivan and covered with a foam device to protect the area from water. If the splash protector moves or completely falls off, water splashed rearward with high concentrations of road salt can corrode the spare tire carrier assembly cable.
During the 2010 recall, Toyota dealers replaced the splash protector and added an anti-rust agent to prevent corrosion. However, the procedure hasn't worked because the anti-rust protection hasn't been enough to protect the area if the splash protector moves or falls off.
Toyota hasn't said what the remedy will be this time, and the National Highway Traffic Safety Administration has not said when the recall will begin.
Toyota Sienna owners can contact Toyota at 800-331-4331.
Lexus GS 350
Toyota is recalling about 10,500 model year 2013 Lexus GS 350 sedans in the U.S. (16,000 worldwide) because the cars could act like you were applying the brakes when you weren't. On top of that, the brake lights won't illuminate so a driver following behind would have no idea the car is slowing down.
The brake pedal assembly in the sedans contain a sensing switch which allows the brake system to detect brake pedal force by the driver. Due to a manufacturing error, there is a possibility the switch could cause the brake system to activate without driver input.
Lexus dealers will replace the brake pedal support assembly, although Toyota didn't say when the recall will begin. Affected Lexus GS 350 owners can contact Lexus at 800-255-3987.
Toyota Highlander, Highlander Hybrid
About 50,000 model year 2014 Highlander and Highlander Hybrids have air bag sensors which are supposed to read the size of the passengers. However, Toyota says the air bag software can wrongly classify front seat occupants as small or light adults. This can cause failure of the seat belt to use the necessary force to protect an adult.
Toyota dealers will reprogram the air bag software during the recall, which should begin this month.
Highlander owners can call Toyota customer service at 800-331-4331.