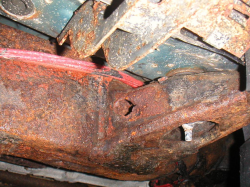 — Days after Toyota recalled 690,000 Tacoma trucks because of corrosion on the rear suspension leaf springs, an Arkansas man has filed a class-action lawsuit against Toyota over rusted Tacoma frames.
Plaintiff Ryan Burns claims model year 2005-2009 Tacoma trucks have frames that are likely to rust and cause owners to spend their own money to correct the problem. The lawsuit alleges Toyota refuses to acknowledge the problem as a safety defect that creates a hazard on the roads.
The Tacoma lawsuit alleges Toyota was aware of the rusted frames years ago because the automaker extended warranty coverage on older Tacoma trucks in 2008. Additionally, Toyota issued a "limited service campaign" in September 2014 for Tacoma trucks in 20 cold-weather states.
Toyota said it issued the campaign after complaints about frames prematurely rusting in model year 2005-2008 Tacoma trucks. The states named in the service campaign are areas of the country where road salt is often used to combat icy roads.
Burns further alleges the remedies set forth by Toyota have not been good enough to fix the problem because they apply to only a small number of trucks. The lawsuit also claims the trucks should be recalled because a "limited service campaign" isn't advertised to the public.
Owners of the Toyota Tacoma trucks named in the lawsuit have spent years complaining to CarComplaints.com about rusted frames and the incredible expense of fixing the problem.
"I have a 2005 Toyota Tacoma Double Cab 4X4 the frame has two holes in it both near the front suspension on the driver and passenger side. I recently became aware of a limited service campaign (SC-E0D). According to Toyota, yes, the LSC does exist but my truck's VIN isn't part of the LSC. They told me to contact a local Toyota dealership and they could fix the rust as long as I was willing to fix it. I did contact several local Toyota dealerships and was told by all of them, they don't fix these issues but they can replace the frame for a cost of 14K." - 2005 Toyota Tacoma / Hampton Bays, New York
"Pointed out rust and questioned technician working on the truck only to response that it was normal not to worry he sees this all of the time on Tacoma trucks. Still in Tacoma honeymoon I shrugged it off only to watch the cancer grow at an alarming pace. Toyota corporate has to this day discounted my photos and complaints accusing me of mistreatment and abuse of the vehicle." - 2005 Toyota Tacoma / Glenmoore, Pennsylvania
The Toyota Tacoma rusted frames lawsuit was filed in the U.S. District Court for the Western District of Arkansas - Burns v. Toyota Motor Sales USA Inc.
The plaintiff is represented by Barnow and Associates PC, Milligan Law Offices, and Roberts Law Firm PA.