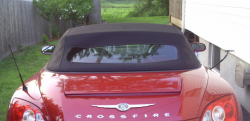 — Back windows that separate from the convertible tops in 2005 Chrysler Crossfire cars won't be investigated by the National Highway Traffic Safety Administration (NHTSA).
In 2014, the owner of a 2005 Chrysler Crossfire Roadster petitioned NHTSA to open an investigation after the back window separated from the convertible top. The government has received almost 160 complaints about the problem and if action would have been taken, an investigation would have included about 15,000 cars.
Owners complain about back windows hanging from the convertible tops, windows that fall out of the cars and dealerships that won't repair the windows under warranty.
In September 2011, Chrysler extended warranty coverage to 10 years or 100,000 miles for the adhesion of the back glass. However, the extended warranty applies only to cars sent to dealerships in the following states: Alabama, Florida, Georgia, Louisiana, Missouri, North Carolina, South Carolina, Tennessee, and Texas.
This has left Crossfire owners outside of those states writing checks for back window repairs.
NHTSA says after assessing the petitioner's request, the safety agency has concluded separation of the back window occurs gradually and the glass remains intact and inside the top after the failure. However, this is in direct contradiction to what many owners claim.
NHTSA further says that considering agency priorities and resources and the likelihood that an investigation will not result in a defect finding, the petition for investigation is denied.