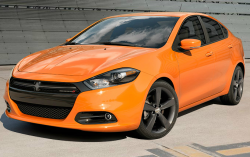 — Over 121,000 Dodge Darts are recalled to repair problems with the braking systems. Fiat Chrysler (FCA US) says affected cars include the 2013-2014 Dodge Dart equipped with the 2.0-liter or 2.4-liter engine. Chrysler says Dodge Darts equipped with 1.4-liter engines are not part of the recall.
The automaker says the routing of the brake booster vacuum tube can allow oil to reach the booster diaphragm if the vacuum pump check-valve fails. The oil can cause the diaphragm to degrade and lead to a loss of brake assist.
The brake assist function helps with stopping distances, so any problems with the system can cause the pedal to feel hard to press and longer stopping distances could occur.
Chrysler says main brake function won't be affected, but any problems with the pedal or stopping distance could cause issues in emergency driving situations. However, a driver might have some warning by listening for a pop or a vacuum leak sound.
FCA says two minor injuries and seven accidents may be related to the brake problem.
Chrysler says about 105,400 of the Dodge Darts are in the U.S., 12,000 are in Canada, 3,705 in Mexico and another 444 outside those regions. All the recalled cars were built prior to January 24, 2014.
Chrysler doesn't know when the Dodge Dart recall will begin. Dealers will replace the vacuum tube and if oil is found in the vacuum tube, the vacuum pump, brake booster and master cylinder will also be replaced.
Owners of the recalled 2013-2014 Dodge Darts may contact Chrysler at 800-853-1403.
CarComplaints.com has complaints about the 2013 Dodge Dart, 2014 Dodge Dart and other model years of Dodge Dart cars.