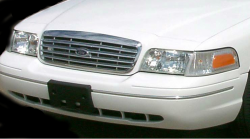 — The National Highway Traffic Safety Administration (NHTSA) has been petitioned to open a federal investigation into headlight failures in 518,000 model year 2003-2005 Ford Crown Victoria and Mercury Grand Marquis cars. NHTSA received the investigation petition from the North Carolina Consumers Council, which claims a defect exists in the lighting control modules.
The petition alleges the module that powers the headlights and other exterior lights can cause the headlights to fail at any time, including while driving.
NHTSA investigated the alleged defect in 2008 and closed the investigation in 2009 without finding any problems. But if there isn't a problem, owners of the Crown Victoria and Grand Marque don't see it that way.
NHTSA has received over 600 complaints about the headlights failing and CarComplaints.com has listened to Ford owners complain about the same issues:
"Spoke to Ford dealer - knew exactly what problem is - non-repairable headlight relay is problem - cost estimate about $750 needs new module - said problem common...very dangerous as happens when driving!" - 2004 Ford Crown Victoria owner / Hazleton, Pennsylvania
"With the number of failures of the LCM and the inherent danger involved in the sudden loss of visibility due to headlight failure at night one would think Ford would take some responsibility. That, however does not seem to be the case. From what I've read here, and on other sights, this repair is hundreds of dollars and the replacement part is the same defective module." - 2003 Ford Crown Victoria owner / Everett, Washington
Ford did issue a "customer satisfaction campaign" (12N01) which extended the warranty to 15 years or 250,000 miles on the affected lighting control modules. However, the petition says the Ford replacement modules were not available when the petition was submitted.
The North Carolina Consumers Council wants NHTSA to open a new investigation into headlight failures in the 2003-2005 Ford Crown Victoria and Mercury Grand Marquis. NHTSA is currently evaluating the request.
Read complaints about Ford Crown Victoria and Mercury Grand Marquis headlight problems: