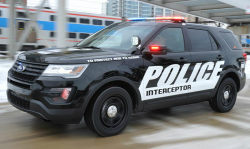 — The National Highway Traffic Safety Administration (NHTSA) has opened an investigation into 10,000 Ford Explorer Police Interceptors. NHTSA says it wants to know if the SUVs have problems with the front brake jounce hoses that can cause a sudden loss of braking ability.
For police officers across the country, losing the brakes while pursuing another car could be a very dangerous situation to the driver and everything in the vicinity.
NHTSA was informed of the brake hose failures when two complaints were filed by municipal police agencies. The failures occurred when the Ford Explorer Police Interceptors were being used for driver training on a closed track.
Both the incidents involved hose assemblies that failed at the caliper end where the hose is attached to the end fitting. In both instances, brake performance was suddenly lost once the brake fluid started leaking.
Considering these are new Explorers with low mileage, NHTSA will need to determine if a defect exists and if 10,000 model year Ford Explorer Police Interceptors should be recalled.
This is the second time this year the Ford Explorer police SUVs have been in the news for brake hose failures. Just three months ago, NHTSA closed an investigation into brake hose failures in model year 2013 Ford Explorer police vehicles. Safety regulators said they couldn't find any defects in the hose assemblies even though 13 complaints had been filed from one police agency.
Ford blamed the leaking brake hoses on service repair procedures that damaged the hoses. For its part, NHTSA said it could find nothing wrong with the brake hose materials and no problems with the original installation of the hoses by Ford.
CarComplaints.com will update you with the results of the investigation once NHTSA has made a final decision.