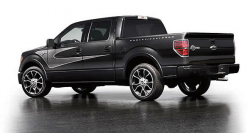 — The National Highway Traffic Safety Administration (NHTSA) has upgraded its investigation into brake problems in 252,000 model year 2011-2012 Ford F-150 trucks.
NHTSA opened the investigation after complaints of extended stopping distances in traffic and increased brake pedal effort when starting the trucks cold. The problem was blamed on failures of the electric brake vacuum assist pumps in trucks equipped with 3.5L GTDI engines.
Ford responded to the investigation by providing NHTSA with data that showed 396 reports related to incidents of increased brake pedal effort or problems with the electric vacuum pumps. Included was seven crashes and over 1,800 warranty claims about brake performance. Another report indicated an injury caused when a vehicle was rear-ended by an F-150.
Ford described the problems as limited and temporary due to water entering the vacuum pump and causing corrosion inside the pump. Ford also said drivers would be warned of problems based on vibrations and noise occurring before any changes occurred to brake function. However, many F-150 owners said there was no warning before the brake problems occurred.
However, damage to the electric brake vacuum pump motor bearing can cause a blown fuse and lead to total failure of the pump.
Ford's response wasn't good enough for NHTSA to close the preliminary investigation. Instead, the government has upgraded the investigation to an engineering analysis to test for electric brake vacuum pump failures under various operating conditions such as low-speed braking and other common driving actions.
NHTSA also wants to learn if people, in any way, could be contributing to the problem.
CarComplaints.com will provide the results of the investigation.
Read complaints about the 2011 Ford F-150, 2012 Ford F-150 and other model years of Ford F-150 trucks.