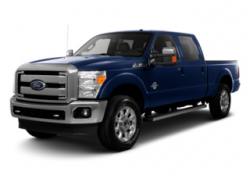 — About 200,000 Ford trucks are under investigation after reports of engines stalling and leaving truck owners stranded on the highways. The National Highway Traffic Safety Administration (NHTSA) names the affected trucks as the 2011-2012 Ford F-250, F-350, F-450 and F-550 super-duty trucks equipped with 6.7L diesel engines.
The trucks had been recalled in the past but Ford apparently thought the problems occurred only in trucks equipped with "ambulance packages." That belief is now in question because complaints keep coming in about diesel trucks without the ambulance packages.
Ford previously said the problems were caused by a faulty exhaust gas temperature sensor that triggered problems with the powertrain control module. Ford said the module reads the bad sensor as if the exhaust system is overheating and causes the engine to lose power and finally quit when the truck is under 4 mph.
The only warning a Ford truck owner has is a message indicator and five chimes that sound. In addition, once the engine is off the truck won't immediately start, so a driver is left stranded where the truck sits.
Ford tried to originally fix the problem by replacing one sensor, but NHTSA says each truck is equipped with four identical sensors which could malfunction. Some complaints allege numerous sensors malfunctioned even after they were replaced during a previous recall.
CarComplaints.com will update this page if additional information becomes available.
Read complaints about the Ford trucks named in the investigation: