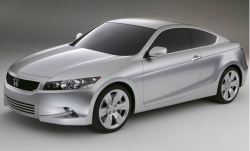 — The National Highway Traffic Safety Administration (NHTSA) has opened an investigation into possible airbag problems in 384,000 model year 2008 Honda Accords. The investigation is not related to Takata airbags found in millions of Honda vehicles.
NHTSA identified 19 reports alleging failures of the airbag control modules that disabled the airbags. One report described a crash where the front airbags failed to deploy and without any airbag protection, the driver and passenger sustained injuries.
Owners of the 2008 Honda Accord describe an airbag warning light illuminating on the instrument panel along with a huge cost to repair the problem. Without paying hundreds for the airbag module, the airbag system in the Honda Accord will fail.
"Air bag warning light sensor activated and stayed on. Local dealer in Maryland advised the srs module needs replacement ($700 cost). Dealer also stated they are "not sure if the air bags would work properly" without replacing the srs module." - 2008 Honda Accord owner / Ellicott City, Maryland
"My mother's car is garage kept and only has 31,000 miles. I haven't driven her car in years and when I did the other day I noticed that the airbag light was on and did not come off. She is elderly and she thought that it was her seat belt light. I took it into honda dealer right away because of all of the recalls going on. They said that it would cost $517 to fix the restraint control unit for the airbag." - 2008 Honda Accord owner / Groveland, Florida
Owners say Honda dealers consistently report the airbag modules can't communicate in a crash, which prevents dealers from acquiring the correct trouble codes to diagnose the problem.
CarComplaints.com will update you when NHTSA has completed its work. It's possible 384,000 model year 2008 Honda Accords could be recalled, the investigation could be expanded or the government could close its investigation without taking further action.