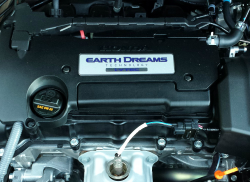 — Honda CR-V engine vibration problems will see their day in court as a lawsuit has been filed against Honda alleging the engines vibrate and cause occupants to become sick.
Plaintiff Linda Oakes bought a 2015 Honda CR-V and within weeks of buying the SUV and when it had only 500 miles, the vehicle started shaking violently at a stop light. Oakes says the CR-V shakes to the point the steering wheel shakes in her hands.
In January 2015, Oakes complained to Honda customer service several times only to be informed the automaker knew about the vibration but there was no way to fix the shaking. Further, the plaintiff claims she took the CR-V to three Honda dealerships and while technicians said they knew the SUV vibrated, they didn't know how to remedy the problem.
The Honda CR-V lawsuit alleges the SUV is prone to severe vibration at slow speeds and at idle, a condition that exists from the time the vehicle is sold and continues to worsen over time. Many Honda owners say the engine vibration is a serious distraction to driving and occupants can easily develop headaches and nausea from the shaking.
The lawsuit alleges Honda knew about the CR-V vibration problems before the SUV was first sold and could have done something about it. However, the automaker would have been left with two choices: install parts to help with the vibration or change the engine design and lower the CR-V fuel economy.
The plaintiffs claim Honda didn't tell buyers about the vibration because that would have hurt sales of the 2015 CR-V. In addition, the vibration is noticed by buyers shortly after purchasing the SUVs and Honda refuses to fix the problem or offer a refund.
The 2015 Honda CR-V is equipped with a 4-cylinder "Earth Dreams" engine and continuously variable transmission. Honda advertises the Earth Dreams engine as a tool to improve fuel economy by reaching maximum horsepower at lower engine RPMs.
An engine running at lower RPMs at idle and slow speeds allows the SUV to use less power and travel more miles on a tank of gas. However, one issue is a well-known matter in the auto industry, that is, noise and vibration are more common when an engine is running at low RPMs at idle and slow speeds.
Honda claims the 2015 CR-V Earth Dreams engine helps the SUV achieve an estimated 27 miles-per-gallon in the city and 34 miles-per-gallon on the highway. That's an increase of 3-4 mpg compared to the previous model year CR-V SUV.
The Honda CR-V engine vibration lawsuit alleges Honda violates its own warranties and also California consumer protection statutes.
The Honda CR-V engine vibration lawsuit was filed in California Central District Court - Linda Oakes v. American Honda Motor Co., Inc, and Honda Motor Co., LTD.
The plaintiff is represented by the Gibbs Law Group.