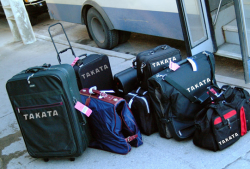 — Honda has finally kicked out Takata and its exploding airbags after the National Highway Traffic Safety Administration nailed Takata with a $200 million penalty.
Publicly Honda stood by Takata's side through the deaths, recalls and government actions taken against the airbag manufacturer, but the final blow came when Takata supplied internal documents to the automaker.
Honda says in the past few months, it's reviewed millions of pages of internal documents provided by Takata. After reviewing the documents, Honda says it is convinced Takata misrepresented and manipulated test data for airbag inflators.
A big issue for Honda is Takata not knowing the root cause of the airbag explosions. Honda and many automakers have recalled millions of vehicles to replace Takata airbag inflators with new inflator packages, but it's possible those vehicles will need to be recalled again.
The best evidence to date points to the chemical ammonium nitrate, used as the propellant to deploy the airbags. The chemical isn't expensive to use, but it's known for becoming unstable when affected by moisture.
Engineers currently believe the metal inflators that hold the ammonium nitrate degrade over time due to heat and humidity. Based on that belief, many Honda vehicles have been repaired using the same Takata metal inflators but inflators that are new.
If Takata determines a root cause other than ammonium nitrate, Honda would likely need to recall all affected vehicles once more.
For now, Honda will stop equipping Honda and Acura vehicles with front driver and passenger Takata airbags and the automaker plans on replacing all recalled inflators with inflators produced by suppliers other than Takata. If replacement parts are delayed, Honda will provide alternative transportation at no charge to customers.
Honda believes it has enough replacement inflators to keep pace with the response to recalls. Currently the national completion rate is 41 percent and a little higher in high humidity areas.
Honda further says it has requested, and Takata has agreed, to hire a third party to perform an audit of all Takata frontal airbag inflator test data that was supplied to the automaker.
From here, Takata must be wondering about a collapsing house of cards where other automakers follow Honda's lead and start jumping ship.
Because Honda was Takata's largest customer for vehicle airbags, most of the deaths and injuries have occurred in Honda vehicles, as shown below.