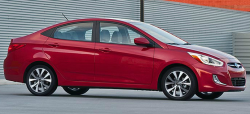 — Hyundai has recalled about 2,580 model year 2015 Accent cars with problems that can occur in cold weather. Hyundai says the Accent can experience trouble with the occupant detection system used for the front passenger seat.
Most people might think an airbag should always deploy in a crash, but that's not the case with child occupants.
Hyundai says the occupant classification system can fail to recognize a child car seat and the force of the airbag can cause serious harm to the child.
The occupant detection system should determine the size of the occupant in the front passenger seat and deploy the airbag accordingly. The automaker says although the system in the 2015 Accent can fail due to cold temperatures, the problem apparently doesn't occur in warmer weather.
Hyundai says the recalled Accents were built September 15, 2014, to February 10, 2015.
The recall should begin on June 5, 2015. Hyundai dealers will fix the problem by updating and correcting the software for the occupant detection system.
Affected owners of the 2015 Hyundai Accent can call the automaker at 855-671-3059 and ask Hyundai customer service about recall number 129.