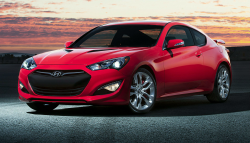 — The Hyundai Genesis Coupe is recalled because the driveshaft can fall off the car. Over 10,000 model year 2013-2015 Genesis Coupes are affected, all equipped with manual transmissions.
Hyundai says the driveshaft can disconnect because the differential and suspension crossmember may not have been properly aligned during assembly. The automaker says the bolts that hold the differential can loosen if the differential and suspension crossmember aren't aligned.
Loose bolts could cause the rear differential to loosen from its mounting position and cause the driveshaft to separate from the differential. If that occurs, forward movement will be stopped and the car will coast to a stop.
The recalled 2013-2015 Hyundai Genesis cars were built December 28, 2011, to April 6, 2015.
The Hyundai Genesis Coupe recall will begin January 11, 2016, when Hyundai dealers will verify the correct alignment and assembly of the differential.
Owners of the Hyundai Genesis who have questions should call the automaker at 855-671-3059. Hyundai's number for this recall is 135.
CarComplaints.com has complaints you can read about the 2013 Hyundai Genesis, 2014 Hyundai Genesis, 2015 Hyundai Genesis and other model years of Hyundai Genesis cars.