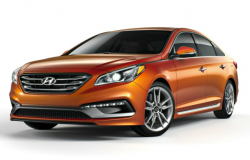 — Hyundai is recalling almost 65,000 model year 2015-2016 Sonata cars with errors in the programming for the anti-lock braking system warning lights.
The cars are equipped with a dual-split braking circuit system and separate warning lights for the brakes and anti-lock braking system. The programming errors in the anti-lock system could keep the warning light from working and a driver wouldn't know if there was a problem with the system.
Although the anti-lock braking system isn't the main problem, the failure of the warning light violates federal safety standards by not illuminating at startup and if there is a problem while driving. If the anti-lock braking system experiences problems while driving, a driver won't know the car's brakes can lock during hard braking actions.
The recalled 2015-2016 Sonatas were built May 28, 2014, to August 21, 2015.
The recall should begin December 11, 2015, when Hyundai dealers will update the software for the anti-lock braking system control unit.
Affected owners of the 2015-2016 Sonata cars can contact Hyundai at 855-671-3059. Hyundai's number for this recall is 134.
Have a complaint about your Hyundai car? Add your complaint here, about any vehicle.