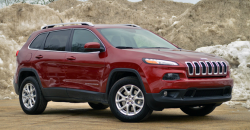 — Fiat Chrysler (FCA US) has ordered two recalls that involve almost 76,000 Jeep SUVs and Ram trucks, the majority involving new Jeep Cherokees with engines that catch on fire.
Jeep Cherokee
Chrysler is recalling 75,574 model year 2015 Jeep Cherokees after two reports of engine smoke and fires.
Chrysler investigated the issue and at first couldn't determine a root cause of the fires and saw them as only random and isolated engine fires. More smoke and fire incidents occurred and the cause of one fire was traced to an air conditioning suction discharge line that was incorrectly routed.
The discharge lines are routed in a way that causes the lines to touch the exhaust manifold and further investigation determined the discharge lines the root cause of the smoke and fires. However, no injuries or traffic accidents are attributed to the defect.
The fire-prone 2015 Jeep Cherokee SUVs were manufactured October 1, 2014, to June 18, 2015. All recalled Jeep Cherokees are equipped with 2.4L engines.
Chrysler doesn't know when the recall will begin, but dealers are expected to replace any air conditioning lines that can affect the exhaust manifold.
Owners of the 2015 Jeep Cherokees who have questions should call Chrysler at 800-853-1403 and use recall number R57.
Ram 1500
FCA US is also recalling 253 brand new 2016 Ram 1500 trucks that may be missing a spare tire heat shield. Chrysler says the trucks, equipped with 5.7L engines and dual exhausts, are at risk of going out of control if the heat shields are missing.
The automaker says without a heat shield, the heat from the exhaust system can damage the spare tire. Needing a spare tire while traveling may not be worth it because the spare tire could experience tread separation or rupture of the tire.
FCA will inspect for the presence of a passenger-side spare tire heat shield and if not present, a heat shield will be installed. Chrysler says if a passenger-side spare tire heat shield is being installed on a sold truck, the spare tire will be replaced and removed spare tires will be modified to prevent use or sale.
Owners who have already paid to have the problem fixed will be reimbursed as long as FCA receives proof of repairs.
As with the Jeep Cherokee recall, Chrysler doesn't know when the Ram 1500 truck recall will begin. If you have questions or concerns, contact Chrysler customer service at 800-853-1403 and give them recall number R58.