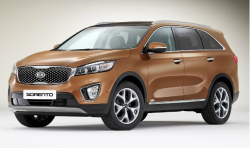 — Kia Motors is recalling over 12,300 model year 2016 Sorento cars that can fail to accelerate.
Kia discovered the defect during an inspection during the final assembly of two Sorentos that had their check engine lights illuminated. A supplier investigated what was causing the lights to stay on and found a soldering problem with the capacitor circuit board in the gas pedal assembly. The bad soldering job caused problems with a sensor that could prevent the cars from moving in any direction.
Kia changed gas pedal suppliers and started using an improved pedal assembly in the Sorentos. Further investigation discovered the combination of two trouble codes caused the engines into "forced idle mode" and promptly stopped the cars from accelerating.
Kia says the recalled 2016 Sorentos were built between October 27, 2014, and January 29, 2015. The automaker said it's unaware of any accidents or injuries caused by the defect.
Kia started notifying owners in February to bring the cars in to have the accelerator assembly replaced. Owners of the 2016 Kia Sorento can contact customer service at 800-333-4542 and give them recall number SC115.