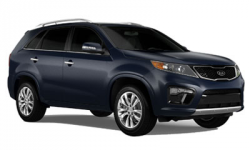 — Kia is recalling 377,000 model year 2011-2013 Kia Sorento SUVs after three reports of injuries caused by the vehicles rolling away.
Kia learned of the defect in August 2015, when an attorney said his client opened the doors on a 2011 Sorento remotely so the client's son could get into the vehicle. The son allegedly moved the shift lever out of "park" without the key in the ignition switch and without the brake pedal pressed.
The father and son tried to stop the Sorento as it rolled away in a parking lot, causing the son to allegedly suffer a fractured leg.
Kia reviewed data for the 2011-2013 Sorento and discovered 54 warranty claims, 14 customer complaints and three alleged injuries related to the defect.
Kia engineers determined the brake-shift interlock mechanism can chip or crack if excessive force is applied to the gear shift lever. The damage can allow the transmission to shift out of the "park" position without pressing the brake pedal.
The automaker says the recalled Kia Sorentos were built October 19, 2009, to January 31, 2013.
The Kia Sorento recall should begin November 24, 2015, when dealers will replace the brake-shift interlock mechanism.
Owners with questions should call Kia at 800-333-4542 and refer to recall number SC124.