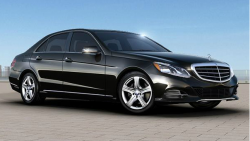 — Mercedes-Benz is recalling over 1,300 cars because of seat belt buckle problems. Mercedes-Benz says the recalled vehicles include the 2015 E250 Diesel, E250 Blue Tec 4 Matic, E350 Sedan, E350 Sedan 4 Matic, E350 Wagon 4 Matic, E400 Sedan, E400 Sedan 4 Matic, E63 Sedan and the E63 Wagon. All the cars were built October 8, 2014, to October 24, 2014.
The problem is the double seat belt buckle for the middle position of the rear passenger seat. Mercedes says it could fail to hold the occupant in a frontal crash, which pretty much defeats the purpose of a seat belt.
Mercedes-Benz says dealers will replace the double seat belt buckle once the recall begins sometime in February 2015.
Affected owners who have questions about the recall should call the automaker at 800-367-6372 and refer to recall number 2014120006.