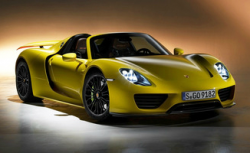 — The Porsche 918 Spyder might be able to hit 210 mph, but owners of the $850,000 hybrid car must still cope with ordinary recalls like the rest of humanity.
Porsche says 223 cars in the U.S. need to be inspected for problems with a wiring harness. The harness goes to the radiator fan and can be damaged by a carbon-fiber component. Porsche didn't say what that component is.
The automaker says the problems affect all 918 Spyders manufactured until the end of April 2015. Porsche discovered the wiring harness issues after receiving "inquiries" about the problem.
Porsche will contact owners of the recalled 918 Spyders and asked to bring the car and leave it for half a day. Porsche dealers will inspect the wiring harness and remount it, if needed.
Owners of the Porsche 918 Spyder can contact the automaker at 800-767-7243.