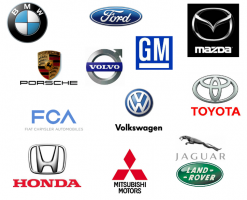 — What motivates a car owner to get their car fixed when a recall notice appears in the mail? If the fear of injury or death from a safety defect isn't enough to motivate a car owner, what would it take?
The Alliance of Automobile Manufacturers is researching that question after determining the number of recalls ignored by the American public.
The Alliance of Automobile Manufacturers is a trade association of 12 vehicle manufacturers, including BMW, FCA US, Ford, General Motors, Jaguar Land Rover, Mazda, Mercedes-Benz, Mitsubishi, Porsche, Toyota, Volkswagen and Volvo.
Based on past responses, vehicle owners respond better to recalls if the vehicle is newer. About 83 percent of new car owners get their cars repaired during recalls, but that completion rate takes a scary downturn once a vehicle is five years old.
Only 44 percent of recalled vehicles are repaired once they are 5 to 10 years old, and that percentage drops even more for vehicles over 10 years old.
According to the Alliance, the average age of a vehicle on the road is 11.4 years.
The numbers are unsettling because millions of older vehicles are recalled each year, yet less than half are repaired even though those repairs would cost nothing.
Many recalls of older cars involve serious safety defects that can cause accidents and injuries to occupants and to other vehicles. Perfect recent examples include 34 million cars recalled in the U.S. because of exploding airbags and millions of older GM vehicles recalled after hundreds of deaths and injuries related to ignition switches.
The Alliance said its research will hopefully help safety regulators and automakers to understand why a consumer ignores such risks and how an automaker can coax the recalled car into the shop.
Automakers have faced criticism for low recall completion rates, but some of that criticism is misplaced because there is no law that says a vehicle owner must respond to a recall notice. Without cooperation from the vehicle owner, that vehicle will continue on the roads without the needed safety repairs.
In March 2015, Honda went to extraordinary measures to convince owners to get their airbags repaired after reports of deaths and injuries in Honda vehicles. The automaker spent millions of dollars on advertising campaigns online, in print and on the radio, all in an effort to get customers to get the free airbag repairs made.
But beyond that, what else can an automaker do?
The research from the Alliance of Automobile Manufacturers hopes to answer that question. Results of the research should be available by the end of summer 2015.