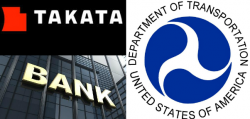 — The U.S. Department of Transportation, through the National Highway Traffic Safety Administration (NHTSA), has fined airbag manufacturer Takata with the largest civil penalty in U.S. history.
NHTSA issued two orders against Takata totally $200 million over Takata's failures to protect American drivers by selling airbags that explode when they deploy. NHTSA will further take action to increase the speed of replacing defective Takata airbag inflators in over 19 million vehicles.
As part of the consent order, Takata admits it was aware of a defect in the airbags but failed to issue recalls and failed to provide NHTSA with accurate information going back to 2009. Furthermore, NHTSA says Takata intentionally gave the government incomplete and inaccurate data since at least 2009, all to keep from recalling the deadly airbags. That same inaccurate information was provided to the driving public.
Takata will receive a $200 million penalty, with $70 million of that required in cash. The remaining $130 million will need to be paid if Takata commits more safety violations or doesn't hold to its end of the deal.
The airbag company is also required to stop making airbags that use "phase-stabilized ammonium nitrate" as the propellant for the airbags. That chemical is believed to be the cause of the exploding metal inflators that send shards of metal into vehicle occupants. All airbags equipped with the chemical will be recalled unless Takata can prove the airbags are safe.
As part of the consent order, Takata will have a babysitter for the next five years, an independent monitor to be selected by NHTSA. The monitor will track all actions by Takata concerning recalls and the safety of airbags.
Although Takata is the company taking the brunt of government actions, automakers are also called out to do their part to ensure drivers are safe.
All vehicle manufacturers that use Takata airbags must ensure they have enough replacement parts on hand by June 2016 to meet consumer demand for the highest-risk inflators. Additionally, final remedies for all cars must be provided by the end of 2019.