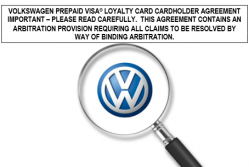 — Volkswagen owners excited to receive a $500 prepaid Visa card and free towing for getting into the middle of the Volkswagen emissions scandal should read and question the fine print of the card agreement.
The Goodwill Package is Volkswagen's way of convincing diesel owners to stay with the automaker after VW admitted almost 500,000 of its U.S. vehicles emit illegal nitrogen oxide emissions.
VW is offering owners of affected 2-liter diesel vehicles a $500 prepaid Visa card, a separate $500 card that can only be used at Volkswagen dealerships and three years of roadside assistance. As part of receiving the Goodwill Package, VW owners must agree to a 5,000-word prepaid card agreement that should keep most attorneys entertained.
On its website and in published reports, Volkswagen has repeatedly said accepting the Goodwill Package will not waive any rights to sue the automaker. One such statement appears on the bottom of the Goodwill Package website:
"Affected customers eligible for the Goodwill Package are not required to waive their rights or release their claims against Volkswagen Group of America in order to receive the Package."
However, considering there are over 350 lawsuits against VW over the emissions scandal, lawyers for the plaintiffs have serious questions about the cardholder agreement. Every VW owner must accept that agreement to receive the Goodwill Package, and wording in that agreement contradicts public statements made by Volkswagen.
The agreement begins with the following statement:
"VOLKSWAGEN PREPAID VISA ® LOYALTY CARD CARDHOLDER AGREEMENT IMPORTANT – PLEASE READ CAREFULLY. THIS AGREEMENT CONTAINS AN ARBITRATION PROVISION REQUIRING ALL CLAIMS TO BE RESOLVED BY WAY OF BINDING ARBITRATION."
Those words alone can give VW owners and their attorneys pause because owners who are part of class-action lawsuits could be signing away their rights to sue.
Volkswagen says this is simply part of the agreement from the bank issuing the cards and the wording in the agreement will not affect any owner claims against VW.
However, owners need to be aware of section 10 of the prepaid card fine print.
10. Waiver of right to trial by jury
"You and we acknowledge that the right to trial by jury is a constitutional right but may be waived in certain circumstances. To the extent permitted by law, you and we knowingly and voluntarily waive any right to trial by jury in the event of litigation arising out of or related to this agreement. This jury trial waiver shall not affect or be interpreted as modifying in any fashion the dispute clause set forth in the following section, if applicable, which contains its own separate jury trial waiver."
The agreement goes on to say the customer agrees to binding arbitration to be held in South Dakota.
"In the event of any dispute or claim relating in any way to this agreement, customer agrees that such dispute shall be resolved by binding arbitration with the American Arbitration Association, utilizing the rules of procedure of such arbitration service, further, any such arbitration shall take place in Sioux Falls, South Dakota and the laws of the state of South Dakota shall apply. The decision of an arbitrator will be final and subect [sic] to enforcement in a court of competent jurisdiction."
As stated earlier, VW says this part of the agreement concerns the bank's terms only and has nothing to do with the offer from VW. If you are part of a lawsuit, verify that your attorney has written notice from Volkswagen's legal team concerning jury trials.