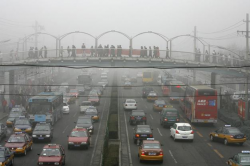 — Step aside Volkswagen, because according to research from a European organization called Transport & Environment (T&E), 230 diesel models failed to meet Euro 6 emissions standards.
Now the twist. Out of all the diesel vehicles considered the cleanest by Euro 6 standards, Volkswagen took top honors and had the cleanest diesels on the roads.
European regulators created emissions regulations with a loophole that every automaker happily jumps through. According to emissions laws, an emissions "defeat device" can be installed on diesel cars as long as the devices are activated only when necessary to protect the engines from damage.
However, based on results of the T&E study and a previous study from French authorities, car manufactures have no problem with the defeat devices activating constantly.
The devices, which are really just software, turns on emissions control during official emissions tests, which makes the cars easily pass the tests. But when the cars are used by consumers on the roads, the emissions control are disengaged, which causes an increase in harmful nitrogen oxide emissions.
The T&E study looked at 230 diesel vehicles concerning current Euro 6 standards and the older Euro 5 standards used from 2011-2015. And who had the cleanest diesel emissions? Volkswagen did, at least based on Euro 6 standards. But by Euro 5 standards, VW cars were the dirtiest diesels on the roads.
But before VW owners start popping the corks, the current Euro 6 standards are still far behind strict U.S. standards and it's been estimated Euro 6 standards are about where the U.S. standards were at in 2008.
Based on the T&E research, big offenders based on Euro 6 standards include Fiat and Suzuki vehicles emitting 15 times above legal limits of nitrogen oxides during real-world driving. Following those two automakers were Renault-Nissan that had vehicles emit 14 times nitrogen oxide above standards and GM's Opel and Vauxhall vehicles that averaged 10 times the legal limits of nitrogen oxide emissions.
Volkswagen vehicles, in comparison, came in only two times above Euro 6 standards for nitrogen oxides.
The automakers named in the research will quickly mention how the results are based on real-world driving, but meeting emissions standards in the past involved emissions levels during laboratory testing. Once on the roads, all kinds of driving situations are encountered that can affect emissions levels, something that has caused governments to begin testing the vehicles based on road tests.
Diesel manufacturers have hinted their cars may not be able to meet strict real-world emissions standards, at least not without charging a fortune for the cars.