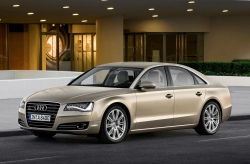 — Audi may be stuck in the middle of emissions hell with its parent company Volkswagen, but the automaker must still deal with normal things every manufacturer has to contend with, namely safety recalls.
The automaker says about 9,100 Audi A8 cars have problems that can cause the engines to stall. The 2010-2013 Audi A8 vehicles have coolant valves that can leak and allow antifreeze to enter the engine control modules.
Audi started receiving complaints about coolant valves and opened an internal investigation to determine the root cause. The automaker says a lack of sealing of the plug at the solenoid valve is the problem, which can cause the coolant to leak through a coolant valve wire connection, causing coolant to leak into the engine control module.
If this happens, it can cause a short-circuit and send the car into "limp-home mode" or cause the car to stall without warning. If there is a warning, the driver would probably see an engine cooling system warning light along with an additional light that indicates a malfunction.
The 2010-2013 Audi A8 cars were built May 15, 2010, to May 14, 2012.
The recall should begin October 19, 2016. Audi dealers will replace the coolant valves in the Audi A8 cars and make sure no coolant has leaked through the electrical connectors.
Audi A8 owners with questions should contact Audi at 800-253-2834.
CarComplaints.com has complaints about Audi A8 cars.