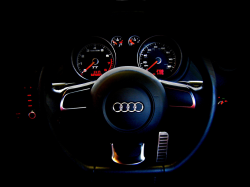 — An Audi "defeat device" lawsuit has been filed alleging the automaker installed secret emissions defeat devices in its cars and SUVs, but this lawsuit is different than all others filed over the Volkswagen/Audi emissions scandal.
The proposed class-action Audi lawsuit, filed by plaintiff Elliot H. Stokar, alleges popular Audi 3-liter gasoline-powered cars and SUVs contain emissions defeat devices inside the AL 551 automatic transmissions.
This accusation is completely different than the disaster Volkswagen is enduring from installing emissions defeat in about 11 million diesel vehicles worldwide as the Audi lawsuit targets gasoline cars and SUVs with hidden devices triggered by the transmissions.
Still, the cars and SUVs named in the Audi lawsuit could number in the hundreds of thousands, including the 3-liter gasoline-powered Audi A6, A8, Q5 and Q7 models.
The plaintiff says he purchased his Audi A8 in 2013 believing the car emitted 418 grams of carbon dioxide per mile and had estimated fuel efficiency of 18 miles per gallon in city driving and 28 miles per gallon on the highway.
The lawsuit references a German report that says the Audi 3-liter cars and SUVs allegedly have defeat devices that do not directly affect emissions controls, which makes it difficult for engineers to detect.
Based on the German report, engineers found that when the steering wheel input does not exceed a 15-degree change in wheel angle, the defeat device senses the vehicle is undergoing testing in a laboratory. The transmission is set to change the way it shifts by operating in a "low rev" mode when it detects the car is on a test treadmill, then the transmission shifts into the next higher gear sooner than it should.
The plaintiff says the modified transmission illegally keeps the engine RPM artificially low, causing the car to use less gas and emit less carbon dioxides. But once the car is back on the road, the RPM goes up, the car has more power and acceleration and it emits higher levels of carbon dioxides.
According to the Audi lawsuit, consumers paid a lot of money for cars that were marketed with specific fuel economy estimates that, as it turns out, are higher than in real-world driving.
The lawsuit also alleges all owners and lessees of the affected Audi vehicles have suffered damages caused by the defeat devices and overpaid for SUVs and cars that were falsely advertised.
The Audi defeat device lawsuit was filed in the U.S. District Court for the Northern District of Illinois Eastern Division - Elliot H. Stokar, et al, vs Audi of America, LLC and Audi AG.
The plaintiff is represented by Hagens Berman.
Read owner-reported complaints sent to CarComplaints.com about the Audi cars and SUVs named in the emissions defeat device lawsuit: