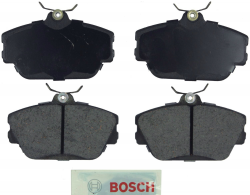 — Automotive parts manufacturer Robert Bosch is recalling numerous popular brake pads that fit well-known older vehicles. The Bosch brake pads can move out of position and damage or completely fracture the rotors.
Bosch says nearly 50,000 of the following brake pads are affected:
Bosch QuietCast BC598 and BP765
Bosch Blue BE598 and BE598H
Prostop PD598 and PD765M
Duralast Gold DG598
Duralast MKD598, MKD765
Bosch Best D598
Stop Master ST598
UltraStop ULT598
UltraLife MX598 and MX765
BrakeBest MKD765
Prostop Platinum PGD598
The recalled brake pads are sold for the following vehicles:
2001-2007 Ford Taurus
2001-2005 Mercury Sable
1995-1999 Ford Taurus SHO
1995-2002 Lincoln Continental
1993-1998 Lincoln Mark VIII
In October 2015, Bosch was contacted by the shim material supplier concerning shims used for certain brake pads that could move out of position and hit the rotors. Additional testing indicated the 4-point mounting shim moved out of position but a 5-point mounting shim didn't move at all.
If the brake pad moves out of position and strikes the rotor, the vehicle can experience severe problems with braking and a sudden pull of the steering wheel while braking.
All the recalled brake pads were manufactured October 1, 2014, to October 31, 2015.
The recall won't be easy because these are aftermarket parts and tracking down the buyers will be difficult. Bosch says it will work with its customers to create a notification process for their resellers and consumers.
Bosch will replace the products with a 5-point mounting shim and will reimburse consumers for the cost of installation based on standard labor rates.
The recall should begin May 2, 2016, when Bosch will provide car owners with directions about how to have the brake pads replaced.
If you believe your vehicle is equipped with these brake pads, contact Bosch at 248-553-9000.
CarComplaints.com has complaints about the vehicles named in the Bosch brake pad recall: